By Toby Denise Concepcion
FilipinoArt.ph is participating in the month-long celebration of women in March. The theme, "Women in Art: Exploring the Experiences and Perspectives of Female Artists and their Place in the Art World," highlights the female artists' experiences and how they engage with the greater art community. This theme inspires us to consider female artists' unique difficulties and how their work contributes to a broader discussion about gender and representation. It aims to highlight the many viewpoints and experiences of female artists and to recognize their contributions to the field of art.
Meet Irma Blanche Domingo, an artist from Baguio City who has had a passion for art since childhood. Her family used to take her to an arts festival annually, where she became fascinated with the creations of local artists. Her creative process is flexible, and anything can spark her imagination. Irma's artistic journey began when she and her husband started a leathercraft business seven years ago, which allowed her to experience the satisfaction of bringing something to life. When the pandemic hit, Irma rekindled her love for painting and enrolled in workshops to enhance her abilities.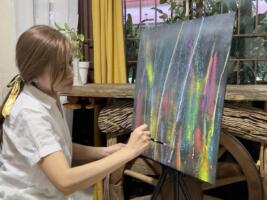 How has being a female artist impacted your identity as an artist and a woman?
"As a female artist, I've become more aware of myself and others. Such awareness of myself and others is essential to me. It has challenged me as a woman to listen deeply, be one with the world, and cultivate harmonious relationships. And my goal as an artist is to connect with people through my work."
What role does art have in your life as a woman?
"Making art allows me to reflect, create, and be free. And while I admire the work of other artists, I gain new insights and perspectives from them."
 Can you tell us about any specific challenges you've faced as a female artist in your career?
"Overcoming the fear of rejection, failure, and criticism will always be a part of the journey of any aspiring female artist. All you have to do is trust in yourself and share your work with the rest of the world."
Are there any female artists who have inspired or influenced your work? Who is it, and how?
"I admire all female artists, especially our local artists. 'Bilib ako sa husay at talento ng mga Pilipino!'"
 How do you feel your identity as a woman has influenced your artistic style and subject matter?
"A woman's character is vibrant and alive; I capture these qualities on my canvas. I produce art brimming with colors, patterns, nature, and elements of daily life."
Can you talk about your specific painting and the story behind it?
"With relentless demands and unexpected challenges, city life can get overwhelming. "Calm in the City" reminds us to appreciate the beauty in the simplest things and cherish moments of peace and tranquility during the world's hustle and bustle
There is "Calm in the City" when calmness comes from within. I used a range of blues combined with a coarse-textured finish for this piece. I attempted to balance the rough texture with the peace that blue evokes. Then, I merged the stillness of the sky with the intense energy that city towers stand for."
What advice would you give young women aspiring to pursue an art career?
"Like in any other career, we need hard work, discipline, and continuous learning to succeed. It takes time to develop your artistic style, so be patient and keep creating!  Practice regularly and seek feedback from more experienced artists to improve your skills.
Join established online art galleries like FilipinoArt.ph to kickstart your art career. Today, cyberspace is the most well-known and up-to-date platform for art browsing, purchasing, and selling. I remember selling my first collection through FilipinoArt.ph and was inspired to paint more.
Art is a powerful form of self-expression. Please make use of it to empower the rest of the world! Our worth as artists are defined by our work, not by gender.
Happy Women's Month and #EmbraceEquity."
What actions can we take to enhance the representation and recognition of female artists in the art world?
"Female artists should support each other and the institutions that maintain gender equality. They should continue to create meaningful artwork and use their talent to advance in the arts field."