by Toby Denise Concepcion
Jeepneys are a well-known representation of Filipino culture and have been essential to the nation's transportation system for over 70 years. These vibrant, colorful vehicles have become an important part of Filipino identity and have been represented in various artworks, including paintings. Even though the jeepney has suffered many difficulties lately, such as rising fuel prices and the threat of being phased out, it still plays a significant role in Filipino culture.
Many segments of society have responded differently to the government's plan to start phasing out the old jeepneys. Some consider it an attack on the nation's cultural legacy and a potential cause of loss of income for jeepney drivers and operators, while some regard it as a necessary step to modernize the transportation system.
The jeepney and its significance in Filipino culture must be honored in light of this dilemma. Paintings showcasing these vehicles' beauty and originality are one way of doing this. These depictions of the jeepneys can capture their spirit and remind Filipinos of their cultural significance.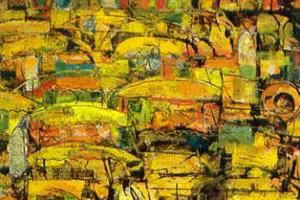 "Jeepneys" by Vicente Manansala
20″ x 23″ Enamel on fiberboard
Vicente Manansala, a National Artist for Painting, was one notable artist who paid tribute to the jeepney. In his masterpiece titled "Jeepneys," Manansala painted a vivid picture of the Philippines' capital: humid, crowded, polluted, and loud due to heavy traffic. These jeeps that inhabited the streets were rendered in vibrant hues of yellow, an example of folk art that stands in bizarre contrast to the ambiance of the metropolis.
On FilipinoArt.ph, we also have member artists whose artworks pay homage to the cultural value of the Philippine jeepney. Learn more by clicking the images below.