Ting Mas
las piñas city, ncr, Philippines
Member since Sep 14, 2020
My art is like more than expressing myself, and not just to impress others. I live to paint, and I love the business side of it. So if you add "paint" and me, you'll get a nice PAINT-TING.
Q&A with Ting Mas
Why do you create art?

I love creating art because it also proves to be a great source of income, especially now there's a pandemic. Making art a source of income is different from making art a hobby, a luxury I never had. I think art has always been in my family's bloodline because my brother also does art, and my four-year-old kid always messes with my paint and brush. I also remember that I was even awarded "Best in Drawing" when I was a young student.
What does your art aim to say?

My artworks explore futuristic themes, and I also dabble in different subjects. I also always put some alien-related elements that are hardly noticeable. I believe we're not alone in this universe and yesterday was a lie. That has always been my hidden message, and I think most people are not ready for that, so I hide it in my works.
Why do you make this type of art?

I'm an experimental artist. I want to have a signature style and technique, so what is not there is what I'm eyeing for. For now, I'm using a putty knife in my abstractions, which is dissimilar from a palette knife. So I use the former in a different approach. It all started when I joined an art competition and saw an old putty knife--I experimented using it, and it worked! I always use acrylic paint because first it's cheaper, and it dries fast. I'm also using putty cement to emboss my subjects--it's like painting and sculpturing at the same time.
What were some of the challenges you faced as an artist?

When I'm in doubt about what I'm doing, I will reread a personal message that says, "Ituloy mo ang pagpinta, Magaling ka," which came from Ambassador Rosario Manalo, a renowned art collector. Reading his words casts off all the doubts—just like that!
Shout-out to FilipinoArt:

I'm thankful to FilipinoArt. I have joined several online galleries but never sold a painting—except here! Thank you for giving us, Filipino artists, the opportunity. Mabuhay po kayo!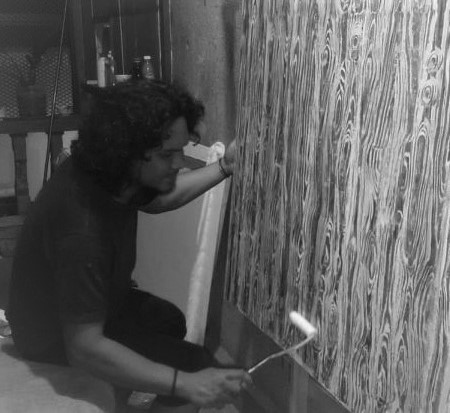 Credentials
Group Exhibitions
Obra Painting Exhibit and Worshops
SM Sucat

Obra Painting Exhibit and Worshops
SM Sucat

Obra Painting Exhibit and Worshops
SM Sucat

VAP 37TH GROUP SHOW NATATANGING PARANAKENYO
SM CITY BICUTAN BLDG B ATRIUM

ARTBID for Covid Crisis Online Exhibit
Facebook

Obra Painting Exhibit and Worshops
SM Sucat

Obra Painting Exhibit and Worshops
SM Sucat