By Toby Denise Concepcion
Manila, Philippines–Visual artist Faye Villanueva-Chelabian, also a published graphic novelist and co-founder of Kawangis Publishing Co., entered her piece titled "Hibla," a two-way painting that shows the battle of Mactan, to the Quincentennial Celebration of the Victory at Mactan in 2021.
If the viewer looks closer at "Hibla," through the lens of a phone camera in reverse effect, they will see other images or scenes from the history after the 1521 victory, where Datu Lapulapu and his men defended Mactan from foreign invaders–a heroism that signifies acts of courage, kindness, and patriotism. Despite its lack of coherence at first glance, all these elements contribute to a single and splendid tapestry. It symbolizes an ongoing journey toward our nation's triumph and liberty, reminding us that everyone is connected to every hero, no matter their era.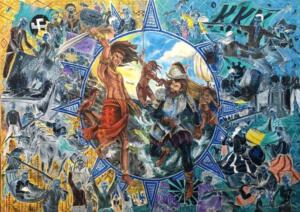 "Hibla"
48″ x 36″ x 2″ Acrylic on Canvas

Faye also chooses people from various times and backgrounds in this painting, not just revolutionaries or leaders. She highlights the inventor of the incubator, healthcare workers, a compassionate president, and a young woman who made a classroom from a wagon, emphasizing that heroism isn't just about grand deeds. Even a small act can make any person a hero in their own right.

She defines heroism from a different perspective: to be victorious, an individual should start by detaching oneself from that victim mindset and adopting a victorious attitude. This means shedding the old mentality marked by past traumas and embracing a fresh outlook that can inspire oneself and the people surrounding us.

She said, "We don't need a significant event to be heroes; we can be heroes in our current circumstances, and even small actions can create powerful ripples. Moreover, this is most attainable when we ground ourselves in the ultimate hero, our Creator.

"I hope to paint, not Andres Bonifacio nor Lapu-Lapu, but this time a mother prioritizing her child over others, a young man giving bread to a beggar, a child sharing her toy with a friend, or a person who is choosing to forgive their oppressor."

Faye began as a book illustrator but found her true artistic identity in comics around 2015. Seeing the overwhelming foreign influences in various art forms, she and her husband realized the importance of creating alternative materials to preserve our culture. She learned the more she's connected with her heritage, the stronger her drive to represent Filipino identity through art.

She's at her best drawing people, so she creates them modernly to show that people can take from icons of the past the lessons they've learned and better navigate the present and future.